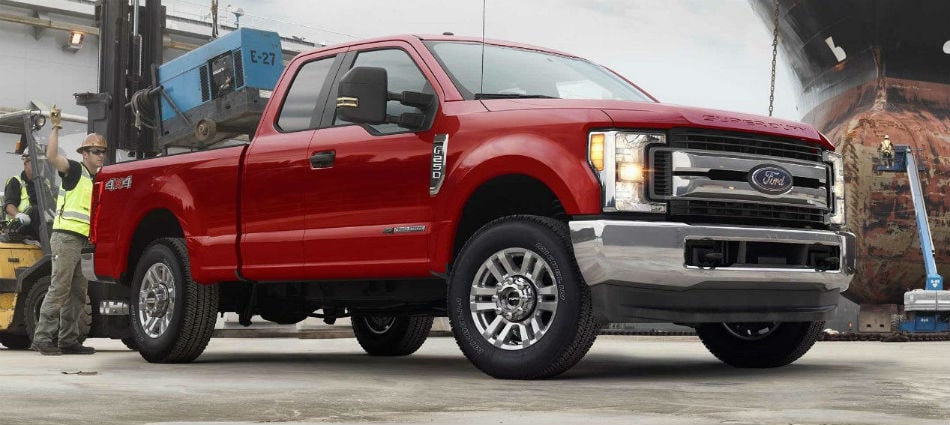 The 2018 Ford F-250
Options and Fierce Performance with the 2018 Ford F-250
The new 2018 Ford F-250 has a wide array of models, trims, and options available to fit all different needs, from the most luxurious vehicle to the hardest-working vehicle out there and all spectrums in between. There are many new features offered now as well as many different combinations from which you can choose that will truly make the F-250 your own.
2018 Ford F-250 Trims
When it comes to the Ford Super Duty, its muscle and the amount of tech it now has makes it a great machine both in power and brains. There are many different configurations from which to choose when deciding the kind of work vehicle you want. There are three different ways to configure the cab, two different bed options, two different powertrain options and a minimum of seven rear axle ratios, not to the mention the fact that the F-250 is one of the three Super Duties on offer (the F-350 and F-450 are very similar but have harder suspensions designed to carry heavier loads). The possibilities are limitless. 
The Super Duty has two different options, the XL and the XLT when it comes to work options. As for leisure or passenger-focused trucks, there is the Lariat trim, the King Ranch trim, and the Platinum trim.
The XL model should really be looked at as the "bare bones" model since you can get it without any of the convenience features. For example, the power accessories, the power locks, the power windows, the power mirrors and the CD player can all be removed to maximize economy. 
The XLT model is really the next step up for you. You have the ability to add all of these features back into the truck and on top of them include a few other amenities such as cloth seats, rearview camera and a basic infotainment setup (LCD screen).
The Lariat model is a little more sophisticated with its leather upholstery, a larger touchscreen for the infotainment (8-inch), power-adjustable pedals, 18-inch alloy wheels and larger driver info display (8-inch).
The King Ranch shows you even more amenities that you have the possibility of adding to your truck. They can be fitted any way you like and truly show you the comforts you would look for in any luxury vehicle while keeping a western feel to the truck. The options available are heated/cooled front seats, leather seating that is unique, dual-zone auto climate control and premium audio.
The Platinum model pulls out the stops but doesn't have the western feel of the King Ranch. The Platinum model includes running boards that are available to owners along with 20-inch wheels which makes this model more desirable. 
An adaptive ratio steering setup has been added to the trucks which will speed up or slow down the power steering assist based on the speed of the vehicle. 
There are also now up to seven cameras that are in the perfect positions around the Super Duty in order to help you fit a trailer into a certain spot or make sure you are able to get into a tight parking spot. This is a must-have when it comes to towing.
Performance
Ford's 2018 F-250 Super Duty Truck is available with two engines, both V-8s, mated to 6-speed automatic transmissions. Rear-wheel drive is standard, and a four-wheel drive is available on all models. 
A carryover, the standard 6.2-liter V-8 offers 385 horsepower and a massive 430 pound-feet of torque. It can carry up to 7,680 pounds in the truck bed. This makes for very powerful performance, accompanied by a trick steering setup that many customers will love. 
What would a heavy-duty pickup be without a claim that it can tow a massive load? Ford has fulfilled its commitment to this cause. Shoppers who opt for the 6.7-liter turbodiesel V8 with 440 hp and 925 lb-ft of torque can tow up to 32,000 pounds. 
The Ford Super Duty is fully equipped with enough grunt for nearly all job sites. With its all-new front radius arms which help smooth the road, a revised rear suspension helps to keep babbling at bay in the back, with or without a load on. 
The Ford 2018 Super Duty provides a variable ratio steering setup that speeds or slows the steering rack to speeds that render the truck more maneuverable at low speeds, and a lot less jittery at high speeds. This is, undeniably, a great setup that can help reduce fatigue for those that need to negotiate their trucks into tight spaces.
Design
The all-new 2018 Ford Super Duty now has Chromed power bars and C-shaped headlights, with Super Duty stamped on its hood. It sports a newly designed cab and other styling cues similar to the F-150. It is far more cohesive than earlier models due to this new look, especially in the Double Cab configuration. 
Comfort and Quality
The Ford Super Duty is available in either a 6-foot-9- or 8-foot bed version. The 8-foot is the length of choice for long distance fuel tanks, which also extends the range up to 1,000 miles.
The Ford's top trims including hides on the seats and a dash that can be upgraded to a multi-contour affair and there's even the option of an in-seat massager. This is an important detail, given that a lot of customers use their trucks as a mobile office. It also goes to show how a Ford F-250 can be a better place to be than a luxury car these days. 
The lower trims live up to the task of daily duties in offering durable cloth and scratch-resistant plastics. By offering vinyl flooring on all of its trucks including the Platinum models, Ford's ingenuity in this area serves workers well, rendering them a lot less to worry about grinding dirt from their work boots into its plush carpet. 
A 6-footer can sit comfortably behind other 6-footers in Double Cab models. All four-door trucks include a rear folding seat, allowing for better in-cab storage. There's plenty of interior cargo capacity along with deep, wide center consoles.